Skip to Main Content
It looks like you're using Internet Explorer 11 or older. This website works best with modern browsers such as the latest versions of Chrome, Firefox, Safari, and Edge. If you continue with this browser, you may see unexpected results.
Covidence is a web-based tool that improves healthcare evidence synthesis by improving the efficiency and experience of creating and maintaining Systematic Reviews.

Guide index

Library > Library guides > Research support
On this page
Overview
Create a linked author profile
Instructions for adding a review
Instructions for adding authors
Introduction to Covidence Extraction 2.0
Screening Titles and Abstracts
Screening Features
Support
Covidence is an online tool that is easy-to-use and assists in streamlining the production of systematic reviews. It is designed to easily import citations ready for screening by multiple reviewers.
This tool provides keyword highlighting and records the voting of screeners. Uploading full copy PDFs is quick and easy and exclusion notes can be captured to resolve disagreements.
Covidence includes customisable data extraction forms and automatically populates the Risk of Bias tables and Prisma Flow Chart. Covidence can be used from the beginning of your Systematic Review - title/abstract screening right through to the beginning of your meta-analysis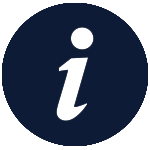 This resource is available to all ANZCA Fellows and Trainees.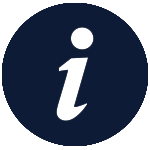 If you would like Librarian assistance with your Systematic Review/Using Covidence please tick YES in this section within the ANZCA Author Profile Invite Form. Our Research Librarian can assist with searching across databases, advice on conducting and reporting systematic reviews.
Introduction to Covidence
Instructions on creating a review
Creating a new review in Covidence (1 min 52 secs)
---
To begin a new review:
Select the [ Start a new review ] button
The Start a new review pane will appear:
Input the details of your new review:

Enter a name in the Name your review field
Which account to use? = make sure to select theANZCA - unlimited reviews leftradio button

Click the [ Create Review ] button when complete
Instructions on adding authors
You can add authors/reviewers when you first create your review, or you can add them later by going to the Settings> Reviewers menu.
To add to a reviewer directly after creating a review:
Select the Reviewers tab
Select the [ Invite another reviewer ] button
Enter their First name and Email address and click the [ Invite ] button
To add to a pre-existing review:
Click on the review name
From the menu, select Settings
Select the Reviewers tab
Select the [ Invite another reviewer ] button
Enter their First name and Email address and click the [ Invite ] button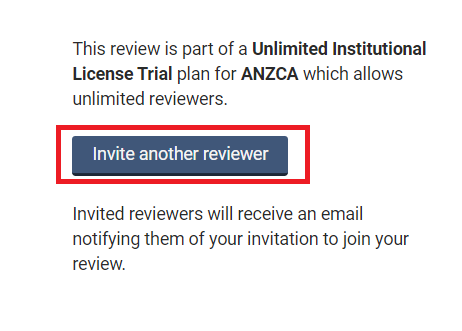 Other help videos
Introduction to Covidence Extraction 2.0 (3 mins 15 secs0
Screening Titles and Abstracts (2 mins 55 secs)
Screening Features (6 mins 42 secs)